Summer English & Disney Youth Camps
at Disneyland® California
Fun, easy and creative way to learn English!
Disney English Camps is a 14 day English learning program with unlimited fun. Transport your students into a world of education, Disney-style, within the magical setting of the Disney Parks that showcases how valuable principles learned in the classroom make exciting things happen every day at Disney attractions.
All students meet with magical Disney characters, have fun at Universal Hollwood Studios all day long, visit Beverly Hills and Walk of Fame, smell the ocean at Santa Monica Beach and more at Disneyland California camp.
The Disneyland California Camp includes:
Camp4ESL English program

Disney Youth Education Series (Y.E.S.)

A 13 night stay at the Disneyland Resorts

Meals, breakfast, lunch and dinner

Transportation from Los Angeles (LAX) Airport to the Hotel via the Disney Magical Express

Park Hopper ticket to Disneyland for 4 days (unlimited switching and entrance Disneyland Parks)

Park Hopper ticket to Universal Studios for one day

Trip to Beverly Hills

Santa Monica Beach visit

Trip to Walk of Fame and Kodak Theatre

Shopping (Outlet malls, Wal-Mart, Best Buy, etc.)

All learning materials

Disney Camps t-shirt and hat

CAMP4ESL graduation certificate

Disney Y.E.S certificate

All transportation in the U.S.

Health Insurance

Note: the student is responsible for all transportation to and from the U.S. .
ca1.jpg
ca2.jpg
ca3.jpg
ca4.jpg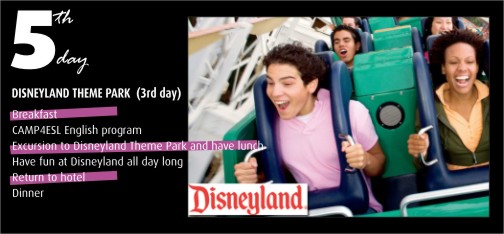 ca5.jpg
ca6.jpg
ca7.jpg
ca8.jpg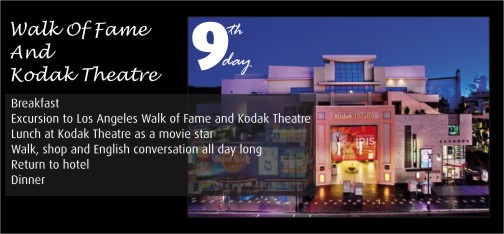 ca9.jpg
ca10.jpg
ca11.jpg
gun12.jpg
gun13.jpg
gun14.jpg
Contact Us
+1-407-255-1111
+1-407-255-1112